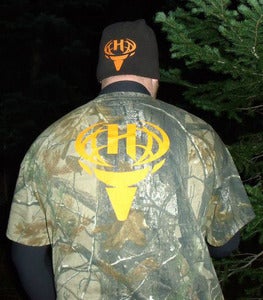 $

25.99
NOTE:****TIME OF DELIVERY WILL DEPEND COMPLETELY ON SALES AND ORDER PROCESSING DATES****
These lightweight Explorer shirts are perfect for days out in the field.
5.4-ounce, 100% cotton jersey
Shoulder-to-shoulder taping
Coverseamed neck
Side seams
Double-needle sleeves and hem
Wearing your gear in the field is one thing, but wearing it year round shows that you are genuinely "addicted to the hunt" year round. These items make a statement about you as a hunter and you as a person. Get your unique "NEW" Huntaholics gear today and stay ADDICTED!
_________________________________________________
The first of its kind. Huntaholics is a brand new clothing line designed for the Addicted Hunter in mind.
Find us on Facebook:
http://www.facebook.com/huntaholics
http://www.facebook.com/huntaholicsoutdoors
Find us on Twitter:
http://www.twitter.com/huntaholics
Find us on YouTube:
http://www.youtube.com/huntaholicsoutdoors
Email us:
huntaholics@live.com